Click on Dates above for Sale Bill & Pictures of Sale Items.
Welcome to Latimer Auction & thanks for checking in!
We're on Facebook too!
NOW BOOKING MACHINERY CONSIGNMENTS FOR SAT. SEPT 8th AUCTION


Aug. 4th 9:30 AM Acreage Downsizing/Moving Auction
Aug. 15th 4:00 PM Betty Gausman w/ Others Downsizing & Moving Auction
Aug. 22nd 4:00 PM Downsizng Auction
Aug. 25th 3:00 PM CAL Community School Excess Equipment Auction
Aug. 29th 4:00 PM Herbert Harms Downsizing Auction
Sept. 8th 9:00 AM Annual Fall Shop & Machinery Consignment Auction (NOW BOOKING CONSIGNMENTS)
Sept.19th 4:00 PM Estate & Downsizing Auction
Sept. 26th 4:00PM H.H./Antique & Collectables Auction additional - details coming soon!
Oct. 10th 4:00PM Open Date
Oct. 17th 4:00 PM Open Date
Oct. 24th 4:00 PM Open Date
Oct. 31st 4:00 PM Open Date

​ALL AUCTIONS ARE HELD AT THE LATIMER AUCTION BLDG./LOT - UNLESS NOTED OTHERWISE.
​
"Call us" to Book your Auction now!!!
Larry Ph. 641-425-8134 or Dixie 641-425-8135
​:
​"We don't expect to do everyone's Auction, but we would like to do yours"!
Thanks for the opportunity,
Larry & Dixie
_________________________________________________________________________________________________________________________________


Where we are
:
Latimer Auction is located at 108 West Main St. Latimer, Iowa in Franklin County, close to the Hwy 3 & Interstate 35 Intersection.
We have a modern Auction House with seating for 90 - plus standing room, wheel chair friendly and it's heated & air conditioned for your comfort & sale enjoyment. A Fender Sound System is installed for superior sound clarity. We have (2) 50" TV screens on either side of the Auction Podium, so smaller items or items in flats, are now televised on the large screens for better visibility. Whether your in the front row or the back row, you'll be able to see what's on the auction block!
Our websites are kept up to date with upcoming sale information and pictures of many items, uploaded so you can "view" what items are on upcoming Auctions. Our Regular Auctions are held on Wed. evenings, starting at 4:00 PM, unless noted otherwise.
(Weekend Auctions by request)
Doors open at 2:00pm for item inspection
.
Reminder! Sales do not need to be held at our Auction House, we will be happy to conduct them at your location as well, on a date & time of your choosing.
If you have items you would like to consign to a sale, let us know and we can schedule a delivery time.
Unable to haul your items in, we have 2 - 20ft. & 1- 24ft enclosed trailers and arrangements can be made for us to come and pickup your items or drop off a trailer for you to load.
Helping Iowans & Minnesotans get the most out of their "sale" items.
We also have a Federal Firearms Lisc. to legally transfer firearms, from your name
to the new owner.
Estate, Retirement Farm Auctions, Fund Raiser/Benefit, Real Estate & Machinery/Equipment.
Office Phone: 641-579-6004 Larry's Cell 641-425-8134 Dixie's Cell 641-425-8135
Email:
larry@latimerauction.com
dixie@latimerauction.com
Owners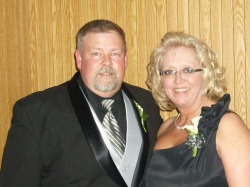 We are Larry & Dixie Treinen from Rural Klemme, IA., we purchased Latimer Auction,
June 1st 2010. I have worked in Sales and Sales Management most of my life and I am graduate of the World Wide College of Auctioneering & PRI - Professional Ringmens Institute. I am also a Contract Auctioneer & Ringman for other Auctioneers as well.
We have 5 grown children and 11 grandchildren, Dixie & I are members of the First Reformed Church in Meservey, IA.
We enjoy spending time with family & when our busy schedules allow, fishing, boating, & competing in Cowboy Mounted Shooting Competitions.
Serving the fine folks of Northern Iowa, Southern Minnesota and beyond, we hope to see you at an Auction soon! If you are considering having an Auction, please give us a call, we we will be happy to sit down with you, discuss your needs, answer your questions and see how we can best serve you.
---
Auction Pics